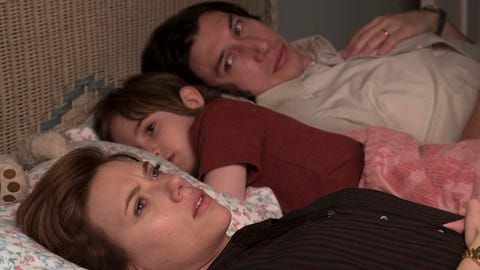 Marriage Story is a drama film which was written and directed by Noa Baumbach. The movie tells the story of a marriage whose main characters are interpreted by Scarlet Johansson and Adam Driver. In addition, it was first released in Venice last summer (2019) and got a Golden Globe.
The story begins when Nicole and Charlie decide to divorce. The main reason is that Nicole wants to be a film actress and to live in the L.A. However, she is a theatre actress living in N.Y. with her husband Charlie, a successful theatre director. As a result, she feels not only frustrated but also unhappy, that´s why, she decides to change her life. In spite of their decision to divorce, they feel a deep respect for each other. Nevertheless, when they decide to hire lawyers, their divorce becomes the most painful and dreadful experience that they have ever lived so far, which provokes their emotional and economic ruin.
The cast is excellent and allows us to see to an outstanding Scarlett Johansson. Although it is rather long and it is sometimes a little slow, the plot is interesting and absorbing.
Would I recommend this film? Of course! In fact, I think that you mustn't miss it, given that it will change the way you see a divorce. What's more, if some people had discussed with another about what they want before hiring lawyers, some couples would have been friends afterwards. Sometimes, communication is all we need.